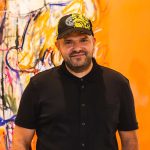 We are pleased to have received new and still beautiful works from Kiko this week!!
Come and discover the Ourson, Wooden Horse, Dancer and Thought, Little Worker collection, on the bench of works on blue, red, orange or even pink backgrounds.
Click here to discover them: New items available at the gallery.